All Competitors
As a BRCA Affiliated Club all competitors and all marshals must be BRCA members. It is permitted for potential new members to 'visit' affiliated clubs, on three occasions only before BRCA membership is required.
Please see our links page to contact the BRCA for more information and to join.
Race With Respect (Actual BRCA Statement)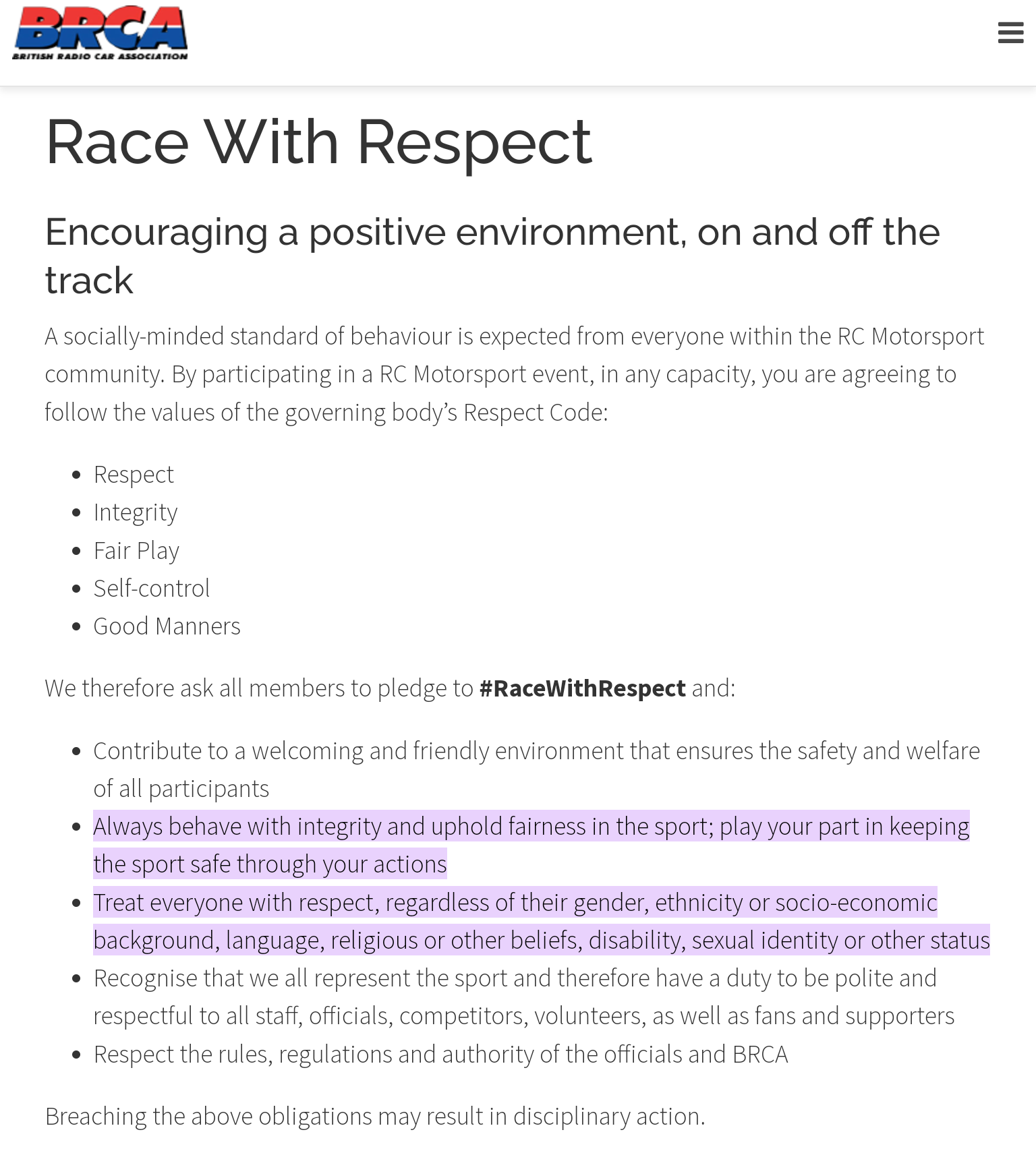 Race Manners
This is not a full contact sport!
Drive with due care and consideration for your fellow competitors and never drive the wrong way round the track, anyone doing so will lose their fastest time.
Always put your car on the track and remove it from the track at the locations indicated by the race director. This is a matter of safety and must be adhered to at all times.
When being lapped, move over at the earliest opportunity and when lapping, give the car in front time to move over.
When racing for position in finals, defending the position is obviously allowed, so the following car must be careful not to knock the leading car out of the way.
Whenever possible do not use reverse if your speed controller is fitted with one. This usually results in a collision with the other cars. Wait for the marshal to rescue your car - it's usually quicker.
No shouting at the marshals - it's not their fault. Remember, in the qualifying heats, you are racing the clock not the other cars.
Marshalling
Marshalling is not optional. Everyone is required to marshal the following race to their own and must go straight out to marshall once their race is finished.
It is the Marshal's responsibility to have suitable footwear and ensure their own protection before leaving their designated Marshals post to assist a RC vehicle. All Marshals must wear "HiViz" vests/bibs/jackets. The Marshals must wear this apparel correctly.
It is not fair to other drivers if they are kept waiting or there is no-one to marshal their car when needed. Substitute marshals are allowed. Marshal positions are numbered, go to the position corresponding to your car number.
We recommend children under 8 years old do not marshal on their own and should be accompanied or substituted by an adult/guardian.
Behaviour
Any disruptive or unruly behaviour will not be tolerated. You WILL be asked to leave the venue.
When a race is in progress, do not walk on the track. Damage to yourself and/or your car can and will happen if care is not taken.
Young children must be kept under parent/guardian's supervision, no running or shouting.
Battery Charging On Site
We only have a low power 240v connection to the grid and the club needs to watch its bills just like everyone else.
Therefore we ask you to come along with your own power source, for instance a leisure battery or generator or enough charged batteries for the meeting.
However, we do understand that this is not always possible, so we have 4 marked sockets in the container under the rostrum for club members to charge batteries if they can't by any other means.
These are available on a first come first served basis, but we would ask you to unplug once your battery is charged to allow other club members to use the sockets.
Please also note, we DO NOT allow extension leads or adaptors to be plugged into these sockets.
If you need any further clarification please speak to Terry Crew (Chairman)
Battery Safety & Care
LiPo/LiFe batteries are a huge technological advance in RC Racing and the world over, they are safe, if used in the correct manner and within the limits of their design. Therefore, the club have strict battery safety guidelines.
ALL LiPo/LiFe batteries must be hard cased.
ALL LiPo/LiFe batteries must be charged within a closed LiPo Safety Charging Bag or Pouch.
ALL LiPo/LiFe batteries must be charged using a suitable and specific LiPo/LiFe charger set to the correct mode/function.
ALL LiPo/LiFe Batteries, Chargers and ANY OTHER pit accessories must be used within the limits of the manufacturer's guidelines.
Please make yourself aware of the guidelines of the products you are using.
There Is NO EXCUSE.
NEVER use any type of battery that shows signs of damage or puffing.
YOU HAVE BEEN WARNED - WORST CASE SCENARIO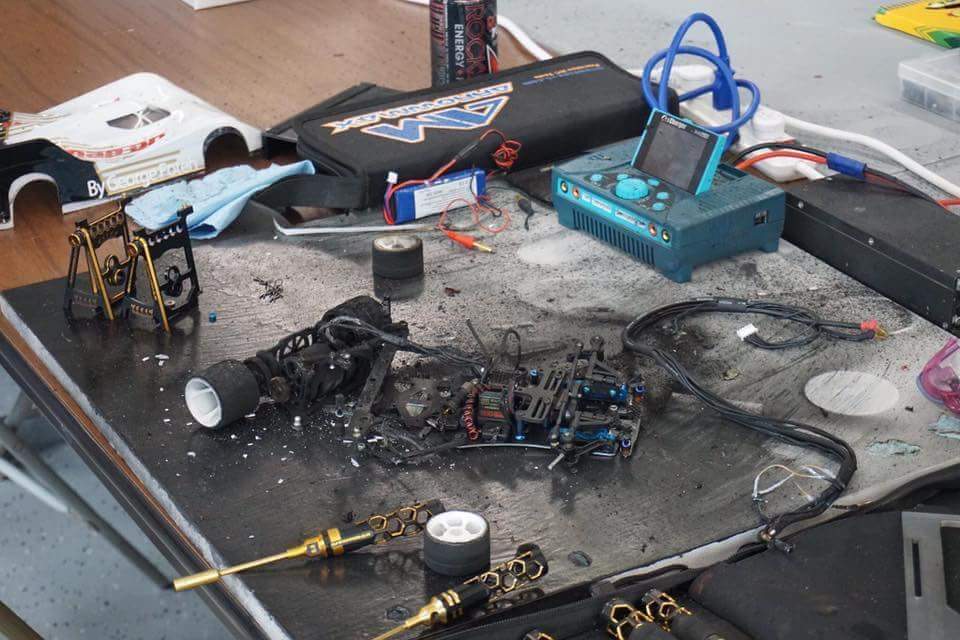 If we all follow these simple guidelines it should make our racing as safe and enjoyable as possible.
Thank you.