Truck Control Tyre Update - 24th May 2022
After discussion with some club members and consideration by the committee it has been decided from now on. To allow Original Tamiya Truck Tyres to be used along side the Ride Control Tyres at all events at SHMCC including the current championship. So now the choice is yours.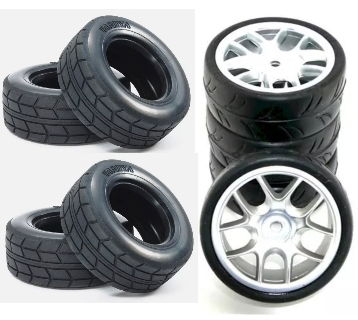 RC Timing Update - 29th April 2022
I have some good news, we have now sorted the problemTruck Control Tyre Update - 24th May 2022s with the laptop not connecting to the timing loop.
Even better news, we have just updated to the latest version of RC Timing and purchased a wifi dongle. So possibly from this Wednesday will be able to upload all our races and results live to "RC Results" to be viewed at any time, even during a meeting.
All you need to do is go to-
RC-Results.com
And click on South Hants Model Car Club
Please be patient if we have teething problems, it might take a couple of goes to get it right.
Thank you.

Terry Crew - Chairman


Latest Championship Standings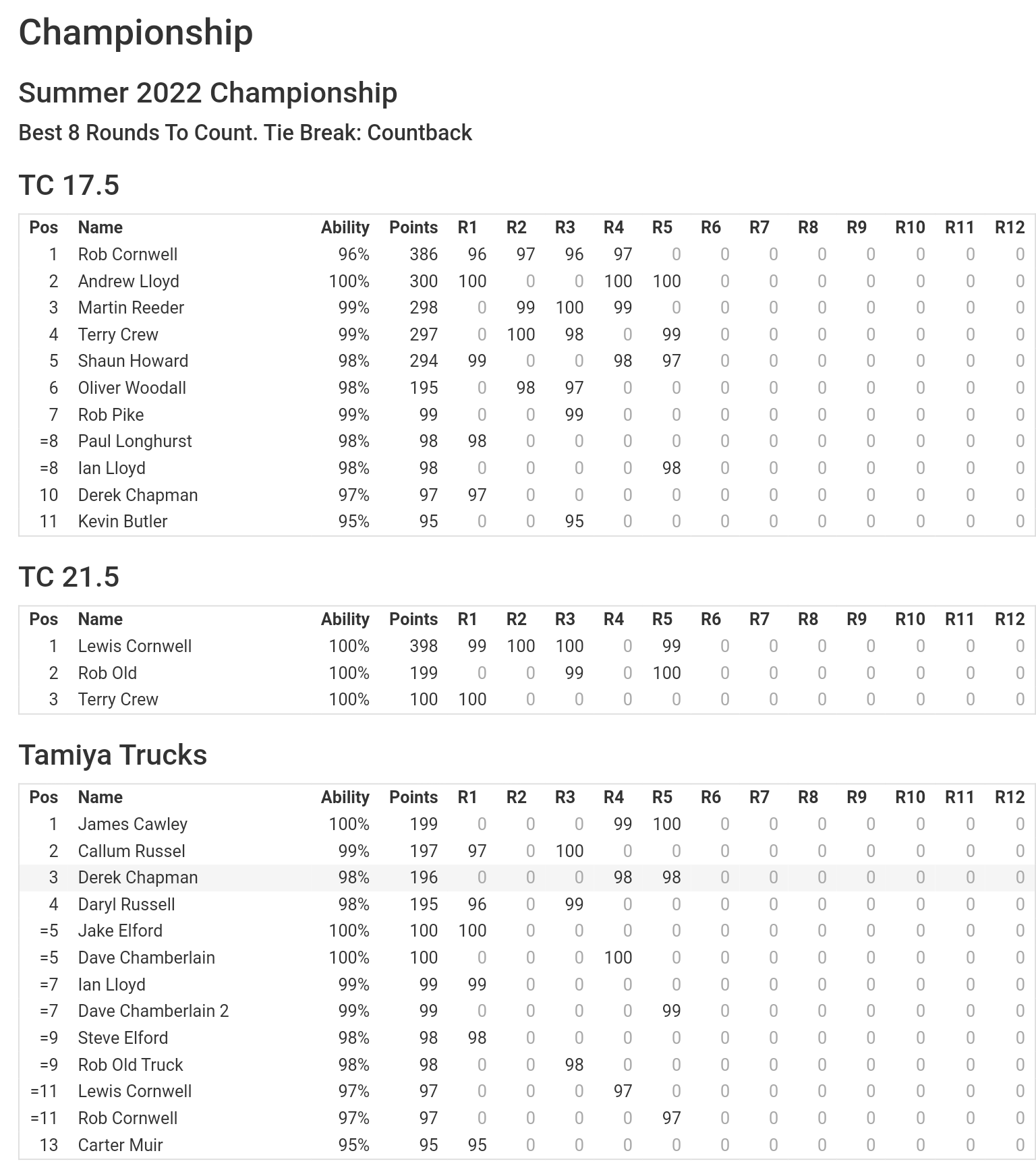 Chairman's Update - 25th April 2022
Just a couple of paragraphs to keep you all up to date.

Firstly many thanks to Ian Lloyd for all the hours he put in repairing and repainting all the track markings. Also all the other jobs he does around the track in his own time.

The committee have after careful consideration decided the current rostrum container has a few years left in it structurally. It does need quite a few jobs doing to tidy it up. But we feel to burden the club with the expense of a new container at this stage is unrealistic.

However we do need to sort out all the wood work on top of the container urgently. We have made a temporary repair to the sagging floor and removed the rest of the roof.

We originally planned to do the rostrum overhaul over the first 2 weekends in August as we have no championship rounds then. But on reflection due to summer holidays it may be better to do it the first 2 weekends in July and move the Fun Day to August. Your feedback on this please?

I was hoping to run a work party on Saturday 30th April or Sunday 1st of May to wire brush and then paint the rostrum container.

Please let me know if your available either of those days.

I expect to be there on both Saturday & Sunday
Terry Crew - Chairman SHMCC
Sunday 20th March
Eeer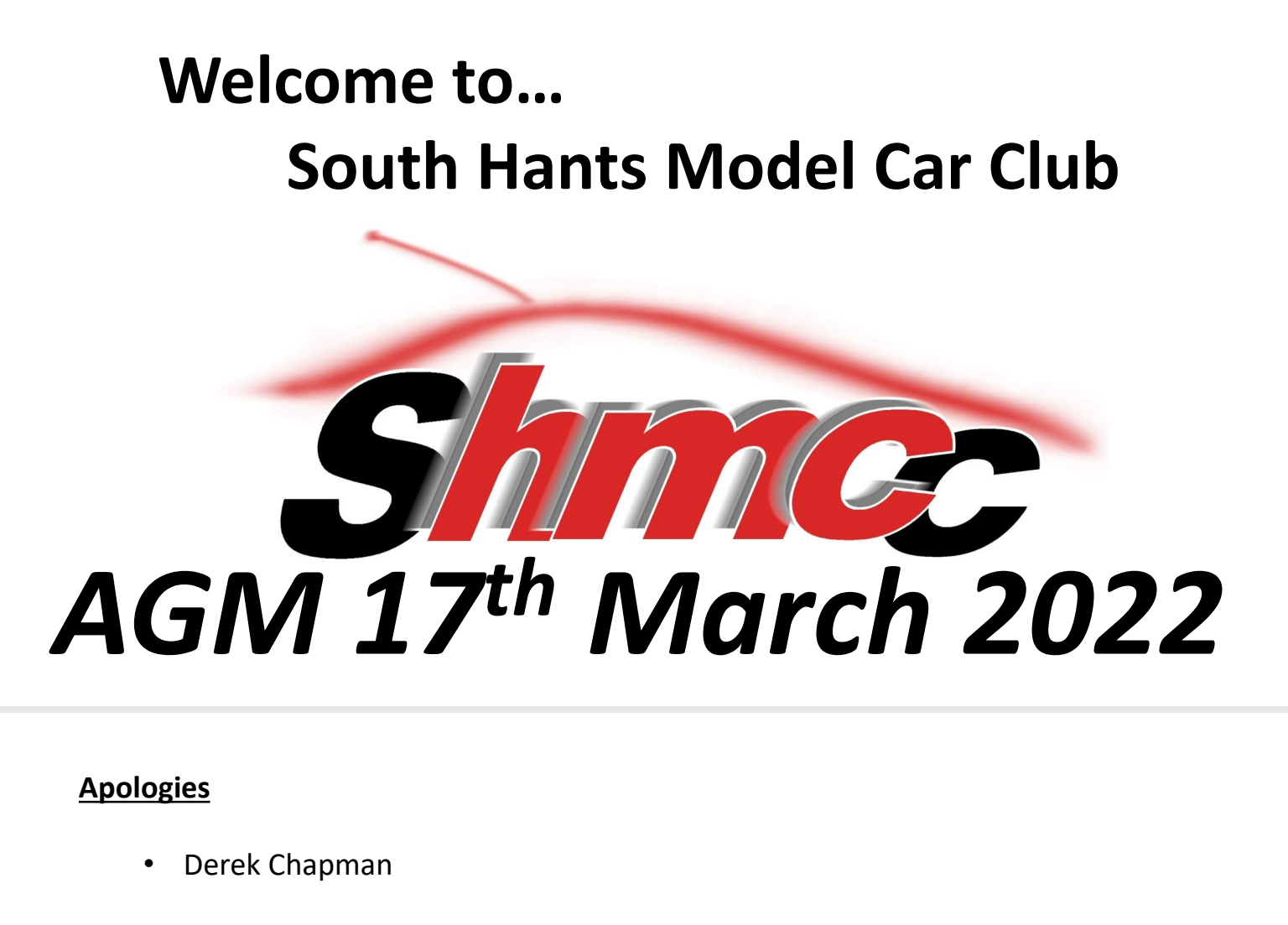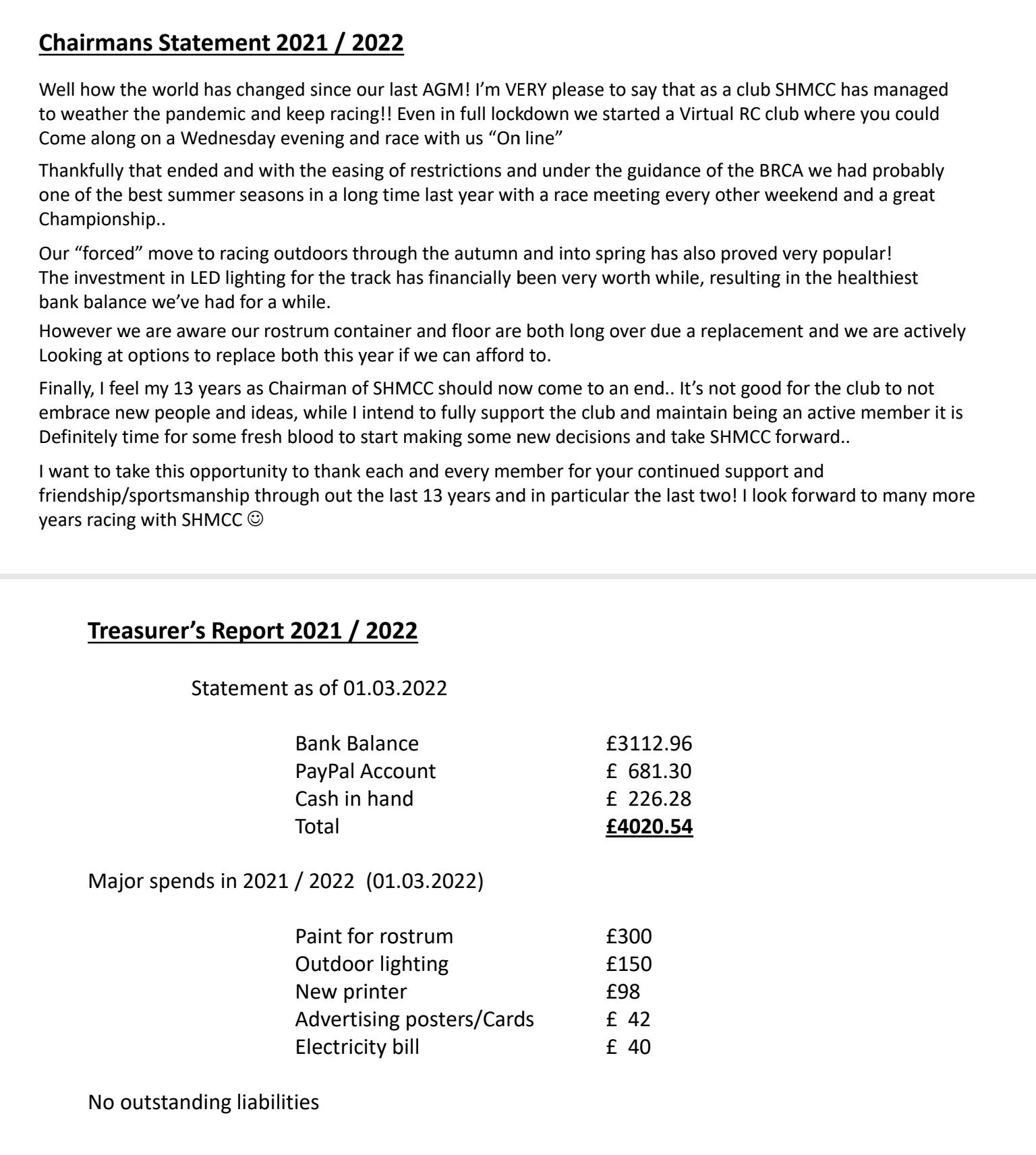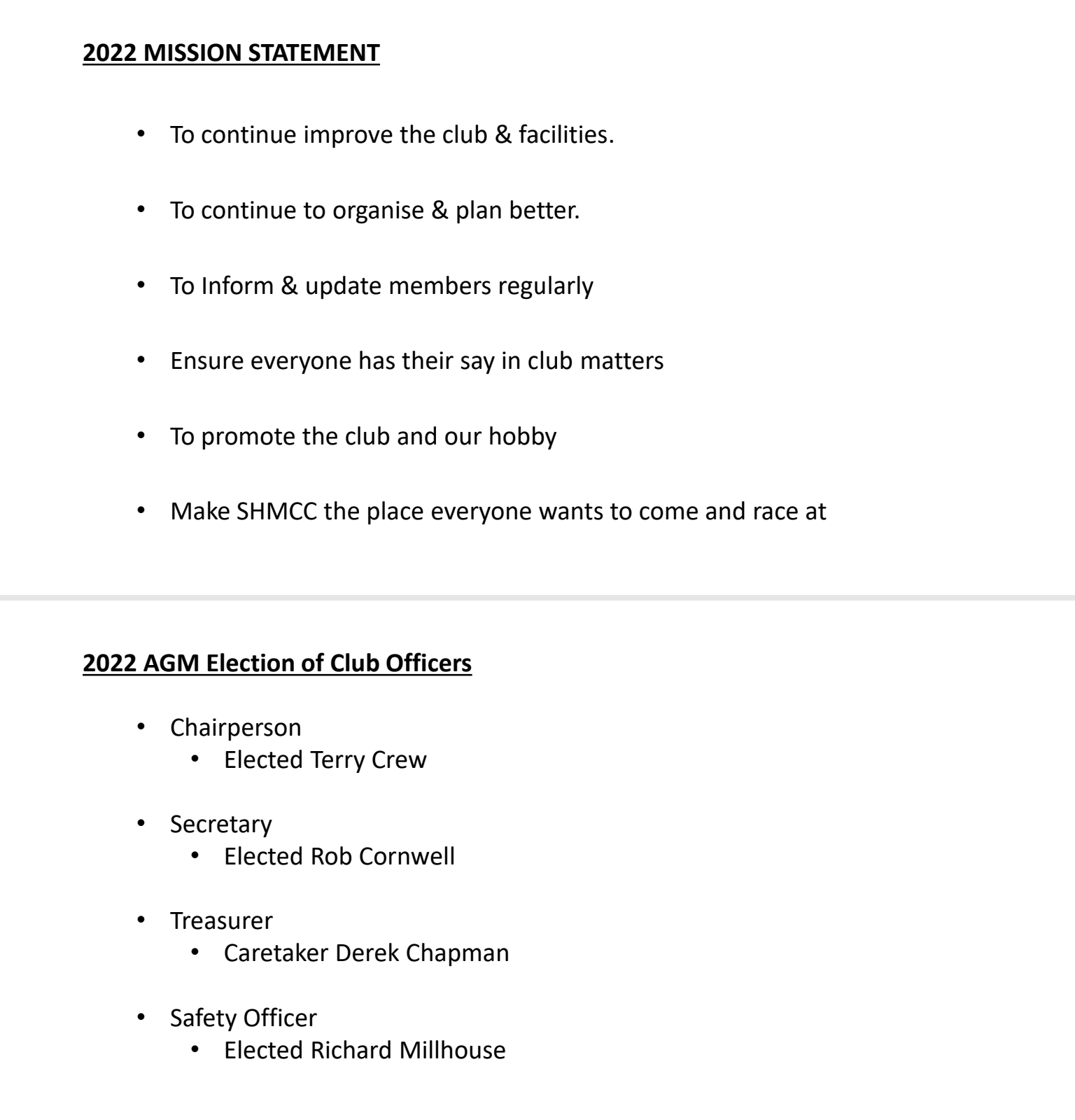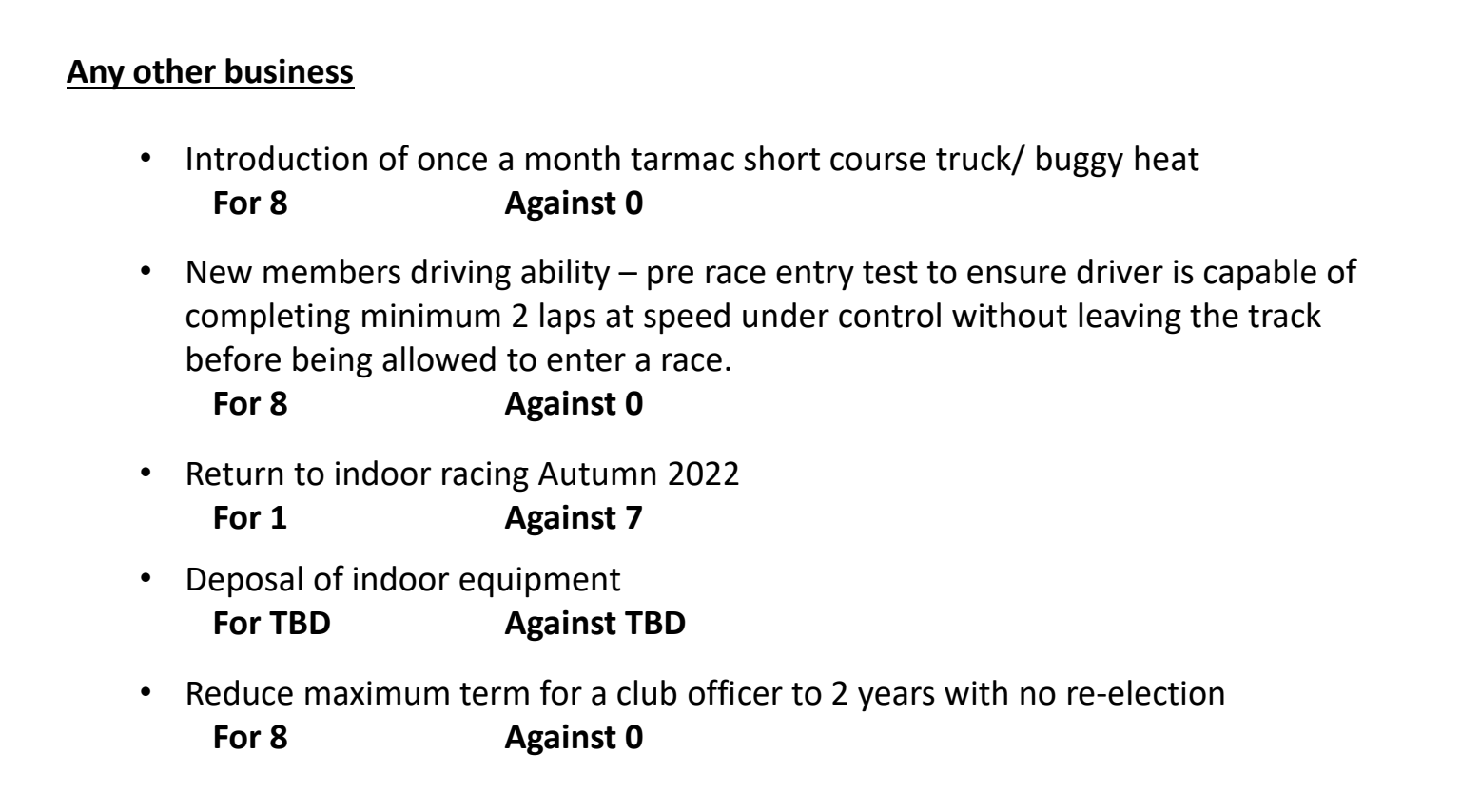 Monday 14th March
SHMCC Club AGM
Our club AGM will be via zoom at 7pm on the 17th March. The agenda has been published and sent with an invitation to all current paid up members. If you haven't received yours contact Dave Chamberlain ASAP. We will need elect the following club officers 1. Chairman 2. Treasurer 3. Secretary as the current ones are all standing down. Also we are looking to appoint a safety officer reporting to the committee to ensure we comply with current BRCA requirements. We will also discuss any other business that has been put forward.
Monday 24th January
Website Update
So this morning I have made a few changes to the club website, I hope you like them, if not please let me know ( terry@shmcc.club ). Firstly I have updated the logo at the top of the front page which I hope is more representative of what we are about. Next I have made some changes to the layout which I hope makes it easier to find your way around.
Then there are 2 new pages, the first is the Summer Championship page, that has everything you need for this year's Championship including race dates and Booking In. The second are two new results pages one for current and previous championship results and we are now going to post the final results of Wednesday evening race meetings on the other.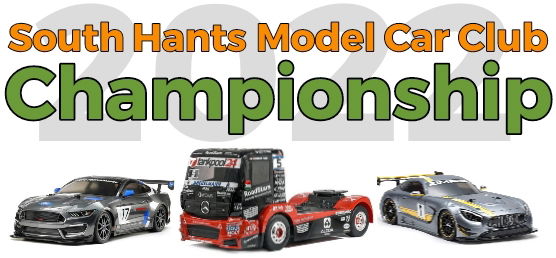 Saturday 15th January 2022
Immediate Action Required
"HiViz" vests/bibs/jackets
I refer to the second paragraph under Marshalling in the Competitors Rules section of this club website that has been taken directly from the BRCA handbook and reads.
"All Marshals must wear "HiViz" vests/bibs/jackets. The Marshals must wear this apparel correctly."
Being a member of the BRCA you are bound by their rules and the club have a responsibility to make sure the rules are followed.
So with immediate effect make sure you are wearing your "HiViz" when marshalling.
Vests are available from B&Q or online from around £3.00. We also have a few freshly laundered used XL vests available from race control for a small donation to the club.

Extract from BRCA handbook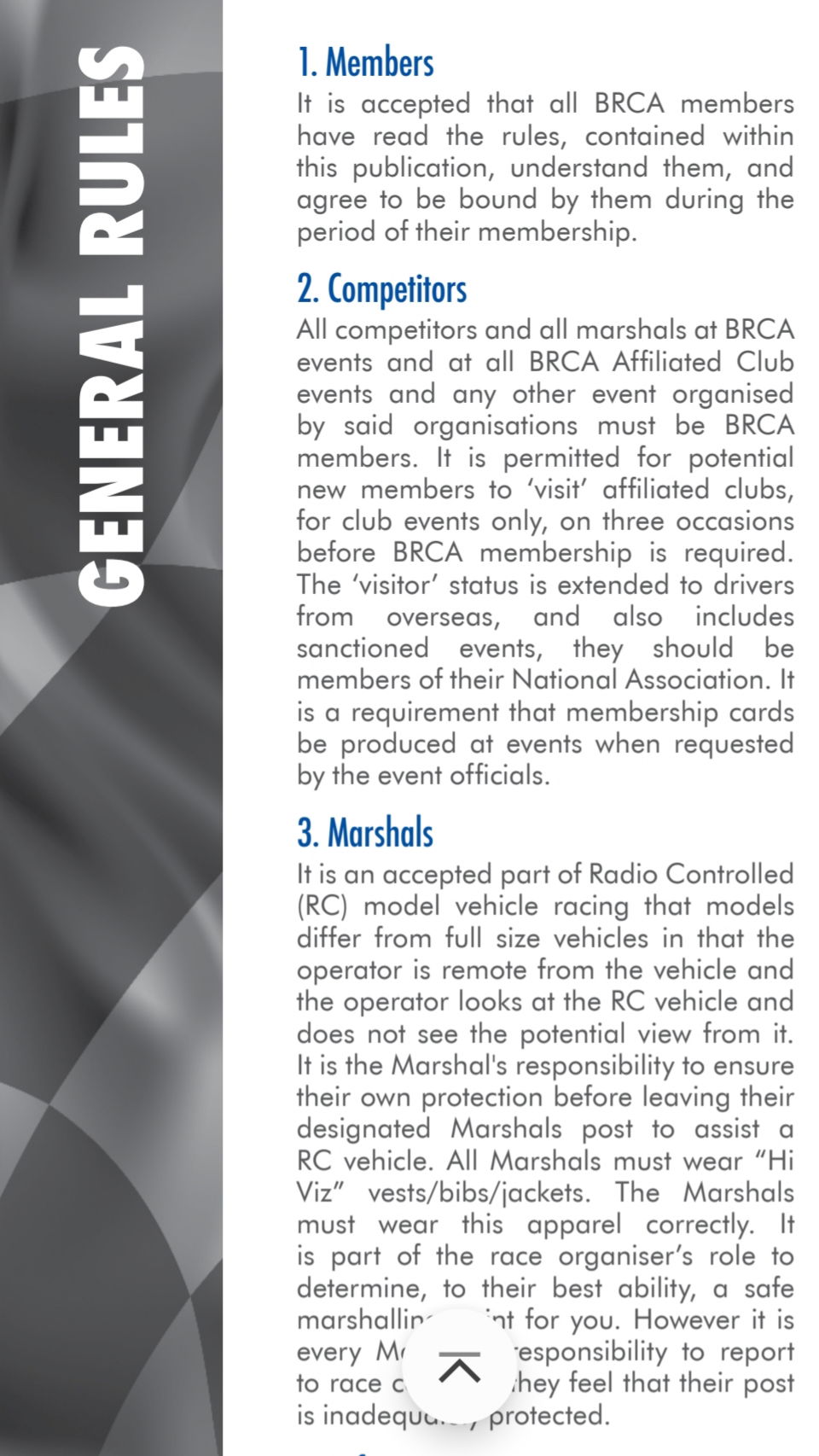 Monday 3rd January 2022
21.5 Motors At SHMCC
This year it has been decided to introduce 21.5T Touring Car class to the Club Championship. This will run along side the 17.5T Touring Cars with separate heats if numbers are sufficient. The 21.5T Cars will be identified during racing by a sticker in the front window supplied by the club.
The reasoning behind this is that as technology has improved so has the performance and speed of the 17.5T class. The 21.5T motor is still very competitive but with not quite so much bite, therefore easier to handle and keep the car on the track. Ideal for the less experienced driver or if your reactions aren't too hot.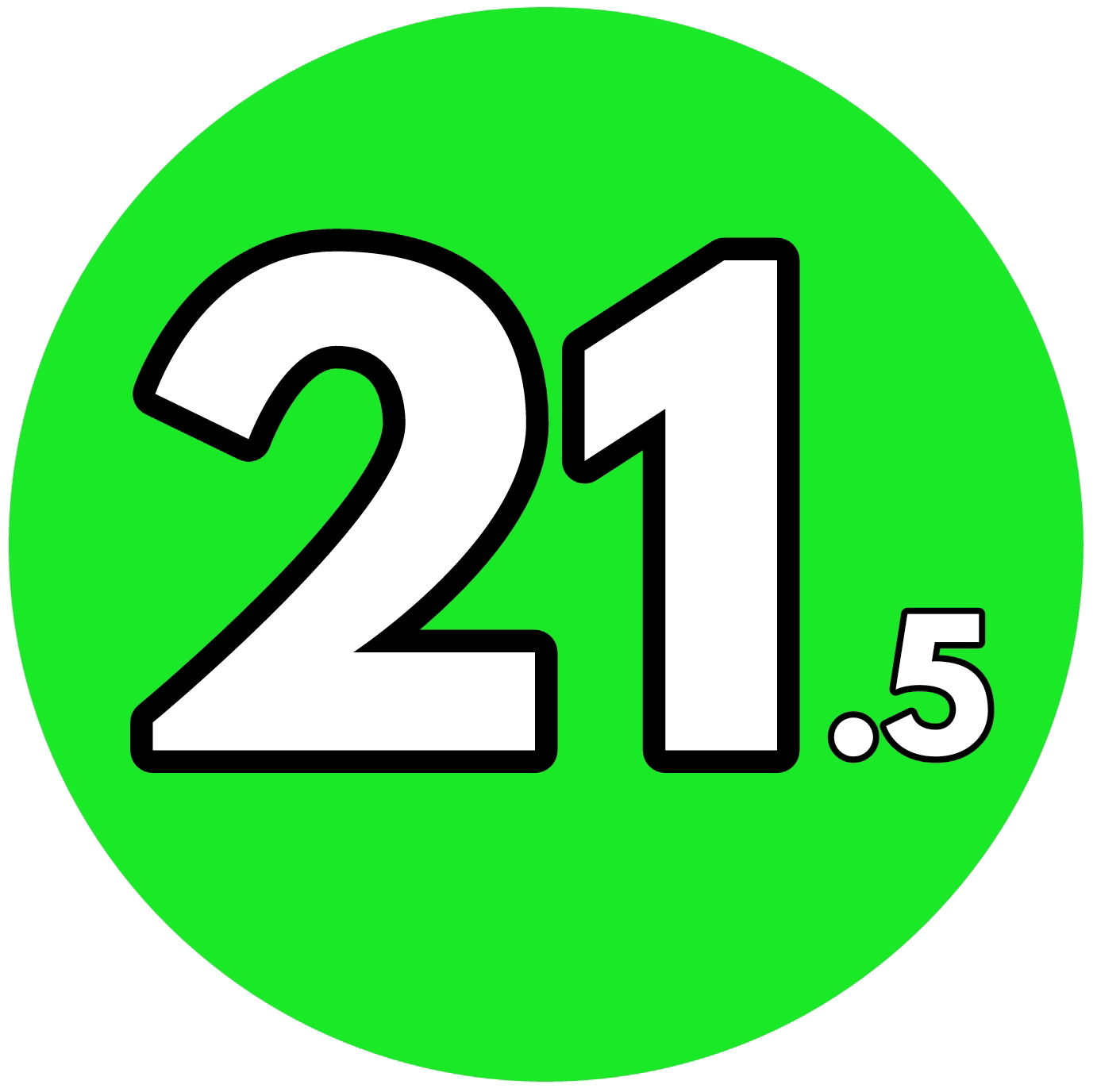 Monday 13th December
Race Calendar 2022
These are the race meetings planned at South Hants Model Car Club for 2022. For more details of each meeting please check the booking in page for that meeting.
Details of this year's Club Championship and Under 16s Truck Championship will be announced on Sunday 23rd January.
Also details of the Open Day/Fun Day will be posted as soon as available.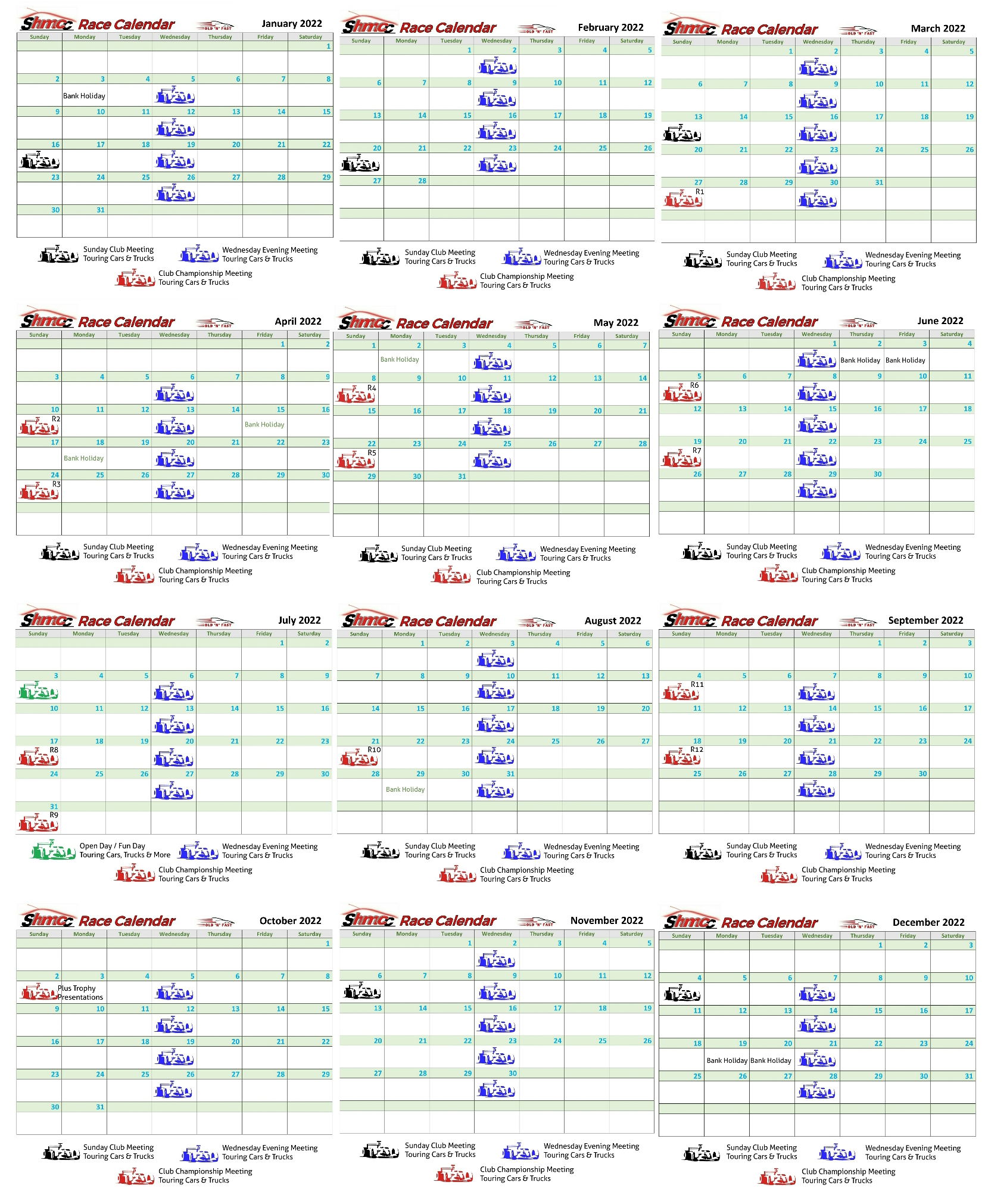 Friday 10th December
Christmas Bank Holiday Race Meeting
It appears we don't have enough of our regular racers able to attend on December 28th and very few definite entries.😟
Therefore it has been decided to CANCEL this meeting.😟
However at the last Wednesday evening meeting on 22nd December we will be offering FREE hot soup and hot chocolate to all competitors.👍😃🚗🏁
Sunday 5th December
Latest Covid Guideline Update
Although we are not a retail outlet, can all competitors revert back to wearing face masks when on the rostrum please.
😷😷😷😷😷😷 😷😷😷😷😷😷 😷😷😷😷😷😷 😷😷😷😷😷😷
This in addition to the Guidelines we already have in place which are:
Bring your own hand sanitizer and use it when needed
Do Not enter race control unless invited
Marshall wearing your own work gloves
Give other competitors plenty of space
Wear your own high-vis vest or jacket for marshalling
Finally - Follow any other directions given by the Race Director on the day.
Thursday 25th November
Important Announcement
Tamiya Truck Tyres
Due to the short supply of the original Tamiya Truck Tyres the club has decided to allow an alternative Touring Car wheel & tyre to be used.
Ride 1/10 Slick Tyres Precut 24mm 10 Spoke Wheel
Part number: RI-26072 or RI-26073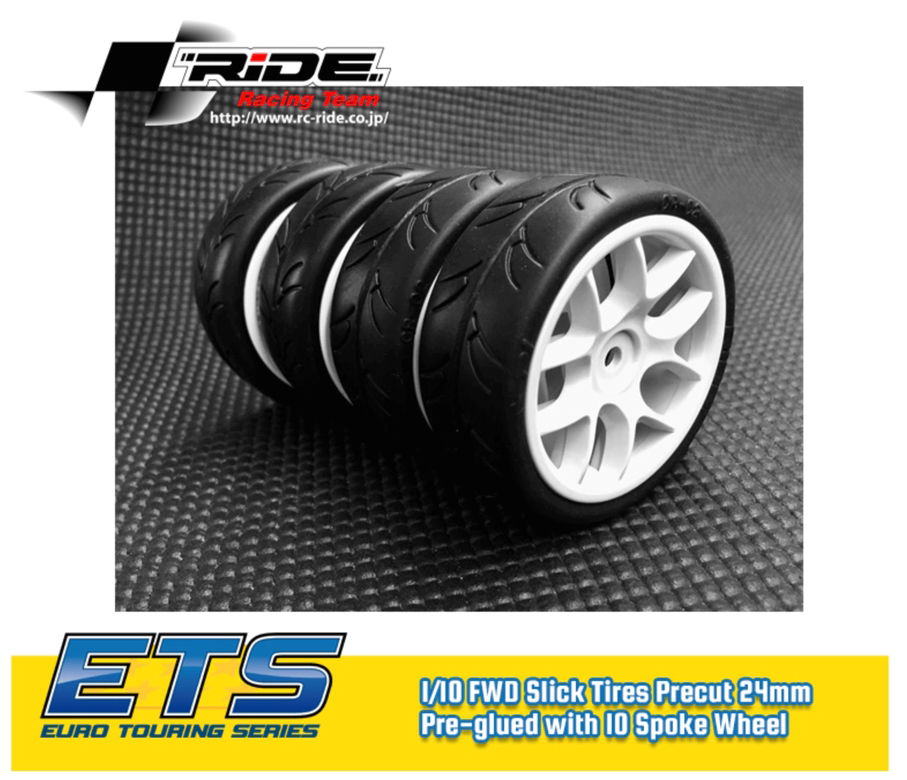 These will then be the control tyres for all club Championship Meetings for the foreseeable future. These tyres have been chosen because of their consistency in use on the track, price and that they are stocked by several different uk shops. Available for less than £25.00 a set from:
MB Models
Modelsport
Wheelspin Models
And on Ebay